Consumer Reports Best Water Filters – 2013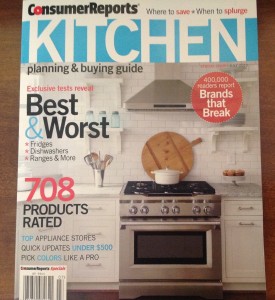 Today while doing my grocery shopping, I ran across the Consumer Reports Special Issue of Kitchens – July 2013 Edition at the checkout stand. I decided to pick it up, because I just bought a new home and the dishwasher needs replacing, and I wanted to see what dishwashers rated best.  I really love Consumer Reports and completely trust them to give unbiased  test results. In this edition they test all appliances that may be found in your kitchen, and to my surprise, water filters!  According to Consumer Reports, filtering your tap water can save you money and keep plastic bottles out of the landfill.
CR tested nearly 40 water filters to see how well they removed contaminants and how they performed, including lead removal, chloroform removal, flow rate, clogging, filter replacement and price.
Lead removal indicates the percentage of lead that was removed by each filter.
Chloroform removal rates the percentage of chloroform removed. A filter's ability to remove chloroform predicts how well it will remove many organic compounds as well as byproducts created by disinfectants used by water systems.
Flow rate is how fast a gallon of water filtered throught the cartridge. The criteria for flow rate scores differ between different types of filters. Faucet-mount, countertop, and undersink models have the same criterion; carafes and reverse osmosis models each have their own.
Clogging measures how well the filter retains its flow rate over time and whether it stopped flowing completely before its claimed life span.
Price is approximate retail.
As you can see from the photo, CR tested carafes, countertop, faucet mounted, reverse osmosis, and under sink water filters.
Once again, the Multipure MP750sb (also known as the Aquaversa) rated best for under the sink water filters.  As you know, I highly recommend the Multipure line of products and this is the system that I have installed in my new home. For more info or questions regarding any Multipure drinking water system, feel free to give me a call or visit my site: http://thewaterfilterlady.com