Start Your Own Water Filter Business
Join Multipure for a one time fee of only $49.95

 Now is the time to get started with Multipure!
If you have any interest in starting your own business, take a good look at the Multipure home business opportunity.

Multipure's compensation plan allows you to start earning immediately. Multipure's compensation plan combines commissions on personal sales with potential bonuses based on the sales made by your network of Distributors. Compensation grows with you, so not only do you earn more when you sell more, but the more successful you and your network become, the higher your commission rate and bonuses become.
Click here to learn more about the Multipure business opportunity OR CLICK here to Join Now
__________________________________________________________________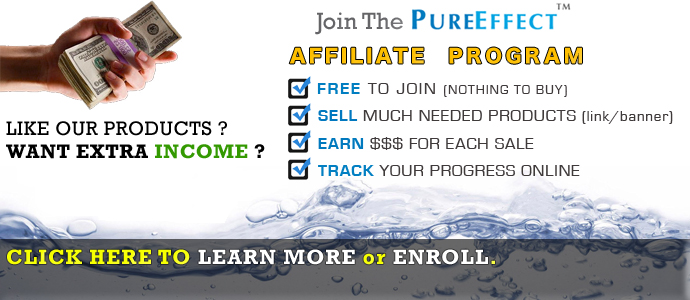 Make 15% commission on our Countertop & Undercounter Filter Systems!
Make 11% commission on our Disinfect Series Systems!
Make 8% commission on our Whole House Systems!
Like our products? Want to be part of a Progressive and Liberty Oriented Company? Not only can you join our team free of charge and help sell some of the highest quality, in-demand water filtration products, but you will also get rewarded for your efforts and make an extra income in these tough times!
Our system tracks referrals and pays top dollar for every new customer you send our way.
Make an Extra 5% on all sales from your Sub-Affiliates!
This option is going to help you expand exponentially by signing up Sub-Affiliates under your own Affiliate account, you will receive an extra 5% off each sale that comes from your Sub-Affiliate! You sit-back and collect your checks.
High Conversion Rate = More Money.
Our products play a crucial role in one of the most important human necessities, clean water! With our advanced Anti-Radiation and Revitalization Technologies, you will be ahead of the curve in what you offer. Our systems can address virtually all of the major concerns with the water supply from Fluoride to Drug Residues, Radiation and beyond!… your referrals will have a greater interest and incentive to purchase our cutting edge water filtration systems using our modern, secure and easy to use website. You, your referrals and sub-affiliates will also receive top-notch customer/affiliate service.
How does it work?
It couldn't be simpler! We've streamlined our entire affiliate process to ensure ease of use, while still maintaining extremely accurate tracking methods. The process is as follows:
Visitor clicks on your affiliate link/banner on your site, in an email or on Facebook or Twitter (Yes, these powerful marketing options are now available in your promotional tools).
The visitors IP is logged and a cookie is placed in their browser for tracking purposes. You can track all the clicks and impressions in your Affiliate Control Panel
The visitor browses our site, and may decide to order.
If the visitor orders (the order need not be placed during the same browser session–cookies and IPs are stored indefinitely), the order will be registered as a sale for you.
We will review and approve the sale.
You will receive commission payouts on the 15th of every month (if your balance is at least $300) via PayPal or Check (depending on which option you choose during signup).
That's it! You send us business, we send you money!
Rules and Requirements
We do have some basic ground rules for the program, so please read before signing up:
All participants must have a PayPal or Checking account (in order to receive payouts).
All participants in the US must enter a US Social Security or Taxpayer ID number. International customers simply enter "International" in this field.
You may NOT receive credit for referring yourself.
Participants caught violating or attempting to circumvent these rules will have all affiliate credit voided and will not receive payouts. Additionally, they will be banned from further participation in our affiliate program.
Ready to join?
Signing up and getting your account configured couldn't be easier. You can be referring business our way in as little as five minutes. CLICK HERE TO JOIN
Questions?
Call Laura now at 386-627-1179