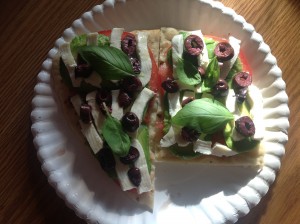 My favorite local pizzeria "Bruno's" here in Palm Coast makes a delicious pizza they call "The Crustino" pizza. It is a no sauce pizza made with tomatoes, mozzarella, garlic and basil. It's one of the best tasting pizza's I've ever eaten. However, for the cost of a delivered pizza pie, I decided that I could make a better tasting pizza at home for less than half the cost. And I have got to say mine is way better tasting! You guys will love this recipe. All these ingredients can be found at your local target store.
Ingredients: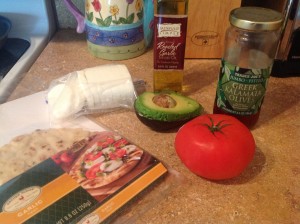 1 Pizza Crust or Naan bread (boboli works too)
2 tsp Garlic infused olive oil (plain olive oil is ok too)
10 Greek kalamata olives
1 Tomato
1 Avocado
Fresh mozzarella cheese
Fresh basil leaves
Directions:
1 Drizzle about 1/2 teaspoon of the garlic olive oil and spread across entire pizza crust.
2 Slice tomato's and then the avocado onto the pizza in thin slices.
3 Place sliced fresh mozzarella cheese onto pizza. (I like to cut mine into smaller pieces so its not so cheesy)
4 Slice and top with  kalamata olives and fresh basil. (you may leave the basil off till the pie is done).
5 Drizzle the other 1/2 teaspoon of olive oil over the top of the pie.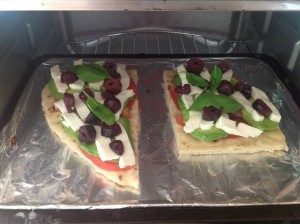 At this point the pie could be served as an appetizer or meal cold or put into a toaster oven or conventional oven to cook.
6 Bake at 350 °F for 10-15 minutes. Depending on how you like your crust. The longer you leave it in, the crispier your crust will be.
Some folks such as myself prefer a toasty brown cheese crust. To brown the cheese, turn on the broiler for an additional 2-3 minutes or until the cheese is browned.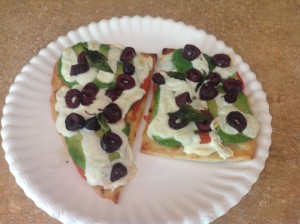 There are so many variations that you could do with this pizza. Of course you could add any number of fresh veggies to this recipe to suit your own taste, but this is my favorite. Enjoy!
Note: The garlic infused olive oil I used in this recipe came from a site called tastefully simple. My good friend Ashley Knotts has some amazingly good foods and recipe's there. Go check it out!