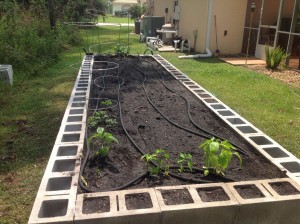 This year I decided I wanted a raised bed garden.  I went with a raised bed rather than a ground garden for several reasons. Raised gardening beds are higher than ground level, so there is not as much bending to work in your garden. A high frame puts plants in reach of a gardener. For easy access, (about 4 feet wide)  it's easy to reach to the center of the bed. Raised beds are so effective for increasing efficiency and yields that crops produce better because the soil in the beds is deep, loose, and fertile. Plants benefit from the improved soil drainage and aeration, and plant roots penetrate readily. One other reason is the soil is warms up faster than in the ground so you can extend your growing season considerably. 
So once I decide on a raised bed garden, I found this video that explains in really great detail on how to accomplish this 4 x 16 foot garden. I followed his specifications almost to a "t" and it turned out really great. I am extremely happy with the outcome. I have not completed the hoop system that he has in the video yet, as I'm not sure if I will go that route or put a greenhouse around it instead. 
This entire project can be completed in 1 day with at least 2 people. Preferably 2 strong guys. My hubby and a friend did most of the work, while I kinda pitched in where I could, but it was great fun watching it all come together.
Materials needed for the project
(32) 16 in. x 8 in. x 4 in. Concrete Solid Block
(64) 8 in. x 8 in. x 16 in. Concrete Block
4 cubic yards (OR) 107 cubic feet of soil
Landscaping fabric (optional)
Hardware cloth screening to keep out moles and rabbits  (optional)
Tools needed
Rakes and Shovels
Ground tiller or sod cutter (optional)
Level
Measuring tape
Rubber mallet
2 strong men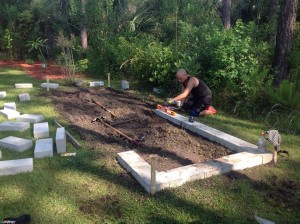 The first step is to measure your area and stake out with string line your dimensions. You'll want to make sure the area inside your corner blocks are 4 x 16. The next step we took was to till the grass and dirt. I rented a tiller from Home Depot, but you could use a sod cutter tool as well. This made leveling the blocks much easier and quicker than digging it up by hand.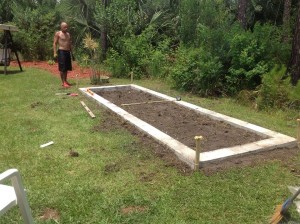 Laying the base of the foundation is the toughest part of the job since you need to make certain that the blocks are completely level throughout the process.  Once the foundation is laid, the next step is to lay your screening and landscape fabric (not shown). Then simply start laying out your cinder blocks as shown. This was the quickest and easiest part of the job. No concrete is needed, but is an option if you are concerned about support. The other option is to fill in your cinder block with soil for planting herbs, flowers or vegetables.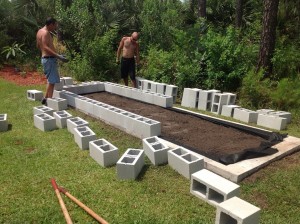 The next step is to fill your garden with the soil. I ordered my soil from a company called Stone Plus. I got a mixture of top soil and potting soil. The cost for this was around $180. delivered. The complete cost of my garden to be built,including materials, labor and rental of the tiller was around $700. Depending on your area you could get the materials much cheaper. I ordered my blocks from Lowes and had them delivered which cost $75.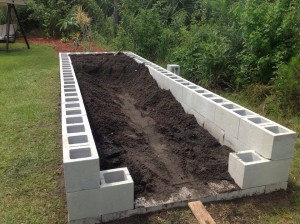 So you could save some money by picking up your own materials. I recommend shopping around to compare prices of cinder block, because after I had already bought mine from Lowes, I found they were about .50 cents cheaper at Home Depot! As you can see from the picture, we left open the end area to get the wheel barrel into the structure for easy dumping of the soil. Then we simply placed the rest of the cinder blocks and filled in some of the holes with soil. 
Here is the completed garden. As I said, this job can be completed in 1 day with 2 or more people. Additionally you will want to add a hoop system (as shown in the video) or some sort of covering if in a sunny area of your property so as not to scorch more sensitive plants. We live in Florida, so we placed this in a north/south area of our yard for the most sun exposure, but we will be adding an enclosure of some type in the near future. Now I am off to do some gardening. 🙂
Updated Photos 7/31/2014
As you see in the pic, I decided to paint it green..