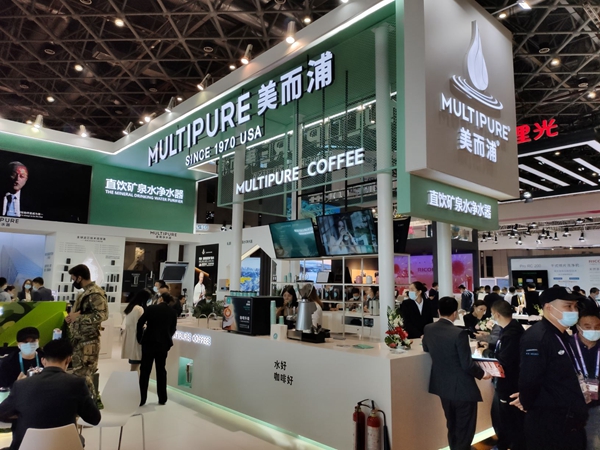 American company Multipure exhibited their drinking water filtration technology at the China International Import Expo (CIIE). First participated in the CIIE in 2019, this is the second time for Multipure to attend the expo, and it will continue to join the coming session of CIIE in 2021. These activities represent their ongoing investment and confidence in the Chinese market.
Jenny Cheng, Chief Operating Officer of Multipure Asia Pacific, introduced the company's experience doing business in China. Multipure was founded in 1970 in the U.S. with headquarters in Las Vegas, Nevada. It was founded by brothers Alan Rice and Alvin Rice, and today the company president is Zachary Rice, son of the founder Alvin. They develop and sell systems featured by an activated carbon block filter for purifying drinking water. The company founded the subsidiary company CBTech Shanghai in 2009 to handle their manufacturing of carbon block filters in China.
Roy Young, VP for Multipure China business, explained the company's products and systems on display at the expo. While the most popular water purification systems presently on the market feature multiple-stage processes, normally called RO systems, Multipure presents a single-stage carbon block water filtering system. A single carbon block filter handles the complete flow from water supply to water tap to provide healthy drinking water. What unique with Multipure's system is the units reserving the healthy minerals such as calcium and magnesium which are necessary for human people, while removing over 100 kinds of contaminants in the water including harmful heavy metals, chemicals, bacteria, viruses and radioactive elements. Especially, Multipure's flagship model Aqualuxe, which removes bacteria by 99.9999 percent and virus by 99.99 percent, is the world's only single-stage drinking water purification system certified by NSF P231.
Their units range in size from something that can be installed in a kitchen sink to steel tanks that come up to perhaps chest high for institutional and commercial use in environments with huge drinking water demand. As the Chinese market grows in purchasing power and awareness of the importance of healthy drinking water, more opportunities have opened up for Multipure to serve customers in the Chinese market. Units in ordinary personal or institutional use connect simply to a municipal water supply system and deals with fine contaminants, without using power and generating waste water.
Young also showed their system for use in disaster response: when a city water system is knocked out due to an earthquake or massive storm, normal water infrastructure that would have made primary treatment for drinking water supply may no longer function. There was a display showing a system of four tanks for emergency drinking water filtration set up on a pallet. There was also a suitcase-sized purification system on display, a type which Young indicated had been used by the U.S. military troops in Iraq War for drinking water demand in the wild.
One of the ways they demonstrated their products was through sharing cups of coffee. Baristas served cups of coffee made with Italian coffee beans brewed in filtered water from their system. The CIIE offers them the space to put on such a demonstration of the quality of their products. Instead of just handing out brochures, they can offer proof of quality.
The CIIE also offers an opportunity to deepen relationships with the local government. Cheng said that the city of Shanghai and the city's Lingang Special Area had been very supporting them. On November 5, Multipure was invited to the welcoming banquet for exceptional Shanghai companies attended by top Shanghai officials. On November 6, a high-level official delegation also visited the Multipure booth at the expo and had a video call with Multipure's President Zachary Rice and Vice President Hector Garcia, expressing support and good wishes for the company and the desire to meet face to face in the near future.
At every year's CIIE, there are many products on display offering material improvements to people's lives. Multipure's carbon block filtration technology is just one of them. Even if you are not able to go to the CIIE, the connections made during this event may open up opportunities for you. If you get a job helping a company fill demand generated through the CIIE or new products are available to you because distributors met new suppliers in the exhibition halls, this expo is one more part of the efforts to improve the world in some way for everyone.Follow China.org.cn on Twitter and Facebook to join the conversation.