(CNN)— In the tiny New York town of LeRoy, one thing is for sure; since October, 16 people suddenly have developed uncontrollable twitching and verbal tics. Three months later, they — and the rest of the town — are still wondering why.
Doctors have diagnosed most of them with conversion disorder, saying that stress is the likely root of their physical problems.
"What happens is there traditionally some kind of stress or multiple stressors that provoke a physical reaction within the body," said Dr. Jennifer McVige, a neurologist who has evaluated several of the teens. "This is unconscious, it is not done purposefully and it's almost like … the stress wells up in your body has to come out in some way shape or form."
Case of N.Y. teens' tics makes psychological sense
But the diagnosis has done nothing to explain why so many people from the same small town — 14 teenage girls, a teenage boy and a 36-year-old woman — started displaying these symptoms within the same time period.
All of the teens attend LeRoy Junior-Senior High School, so the attention has turned there. School officials say everything is safe, but environmental organizations and some parents aren't so sure.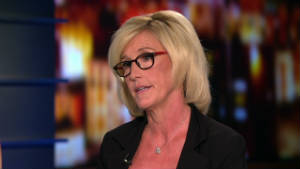 Activist Erin Brockovich is investigating whether environmental factors are causing the rash of illnesses.
The medical mystery in LeRoy has attracted the attention of activist and investigator Erin Brockovich, who came to the village of 8,000 people in western New York after learning about a 41-year-old toxic spill a few miles from the school.
Brockovich and her longtime associate Bob Bowcock, an engineer who has been in the water treatment and testing business for more than 30 years, arrived in LeRoy after receiving an email note from a parent of one of the affected teens. The two suspect that the illnesses are related to the cyanide and trichloroethylene (TCE) that was spilled during the December 1970 train wreck.
Could toxic chemical be source of tics in NY town?
Brockovich and Bowcock are conducting their own environmental tests to determine whether the chemicals were cleaned up properly.
The school along with the Environmental Protection Agency and the New York departments of health and environmental conservation said they already tested the area, and there is no evidence that the site is to blame for this mystery ailment in the students.
"All of these agencies and professionals from these agencies have assured us that our school is safe," LeRoy school district Superintendent Kim M. Cox wrote in a letter to the community this week. "There is no evidence of an environmental or infectious cause. Environmental causes would not discriminate (regarding who becomes infected)."
She said the school hired an independent firm in December to test for volatile compounds, and the report found nothing dangerous. An air quality test also was normal, she wrote. Still parents are worried and upset.
"They say that they are out there looking out for our girls, and are sympathetic to our girls but what is it? Actions speak louder than words." Lana Clark, whose daughter has tics, told HLN TV. " And I don't see a lot of action,"
Check out HLNTV.com's full coverage
Concerns about toxic site, fracking
Erin Brockovich gained fame after the 2000 movie bearing her name told the story of how she, as a file clerk at a law firm, established that a toxic chemical from a power company compressor station leaked into the groundwater of a nearby town, compromising the health of hundreds.
She thinks something similar might be happening in LeRoy. She and Bowcock started their investigation in late January at the train derailment site, which is about 3 ½ miles from where the teenagers go to school.
Read entire article: http://www.cnn.com/2012/02/03/us/new-york-students-illness/
Related:
Le Roy Mystery Disease Update: Fracking suspected- coverup in place?
Congress Releases Report on Toxic Chemicals Used In Fracking