PURIUM's Organic Tropic Oil earns NON-GMO PROJECT VERIFICATION!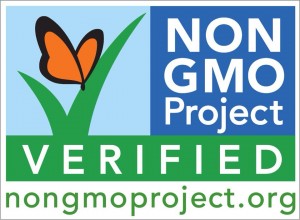 100 years ago all food was organic. Vegetables grew from the earth. Fruit was picked right off the tree. Fish swam in pristine streams, lakes and oceans. And animals roamed free.
Now, many of the things we put into our bodies are made not made by God or Mother Nature, they're made by chemists … in laboratories. They aren't foods at all. They're food-like substances. Processed, irradiated and genetically-modified. Filled with artificial colors, flavors and sweeteners. Loaded with hormones, antibiotics and pesticides.
David Sandoval's and Amy Venner's commitment to non-GMO food began 20 years ago and it has never wavered. In an effort to take that commitment and transparency to another level, a year ago we began submitting every Purium product, along with the hundreds of individual ingredients, to the NON-GMO Project for third party verification.
"We are proud to announce that the Organic Tropic Oil is the first Purium product that has received this prestigious non-GMO verification. Importantly, we believe that Purium is the FIRST and ONLY network marketing company that is able to use this seal! Next in line is Power Shake. And then we expect a steady stream of approvals on our entire product line!
Our goal is to have 1,000 women in 100 communities help 10 customers each eat cleaner and greener. We call this mission "The Million Mom Movement." Having non-GMO verified products is central to this mission. Purium is a SAFE place to shop for your family and the non-GMO certification is in perfect alignment with our mission.
From a business perspective, the market is moving toward us. The biotech companies and politicians don't want to label foods with genetically-modified ingredients, so it is up to companies like Purium to communicate that we DON'T have GMOs in our products. And that's what people want! They want non-GMO food. Especially VERIFIED non-GMO food! In the network marketing space, other companies will have a hard time following our lead because so many of them use soy, corn, synthetic vitamins, maltodextrin and other GMO fillers and flavors.
Non-GMO Project Verification is not only an important point of difference … it is a strategic advantage that will be difficult to copy!"
Here are just a few of the things you will NEVER find in Purium products:
Artificial colors
Artificial sweeteners
Artificial flavors
Excipients and fillers
Excess sugar
Excess fat
Organic Tropic Oil™ is pure, extra virgin coconut oil. Our Organic Tropic Oil™ is hand poured into jars at a low temperature making a marbled texture that shows it is still in its raw state. We recommend using it as part of our 7-Day Anabolic Fast Pack™.
-Supports healthy immune function (especially when used raw)
-Is a healthy alternative to butter and other oils
-Does not contain any cholesterol nor promote platelet stickiness in the blood.
-Stable under high heat, which means it is ideal oil for cooking
-May help improve nutrient absorption
Ingredients: Pure, organic coconut oil
Organic Tropic Oil is 100% certified organic by Quality Assurance International
Get 1 Gallon of Purium Organic Coconut oil for only $22.95 (with $50 gift code: "lauranewton") plus shipping. Normally $72.95. Save $50 on this or any other Purium product.  Click to order
The Non-GMO Project, a non-profit 501(c)3 organization, offers North America's only third party verification and labeling for non-GMO (genetically modified organism) food and products. The Non-GMO Project is a non-profit organization committed to preserving and building sources of non-GMO products, educating consumers, and providing verified non-GMO choices. The Non-GMO Project works in several different capacities to ensure the availability of non-GMO products and to help support informed choice. We offer North America's only third party verification and labeling for non-GMO food and products. We also work to educate consumers and the food industry to help build awareness about GMOs and their impact on our health and food systems. Learn more…